Posted on August 26, 2022
Whatever your idea of the perfect summer, one thing is for sure, it should involve some good food.
From Nando's to Taco Bell and Costa, Talbot Green really has it all.  If you want to recreate some of your favourite TG treats at home this summer, then read on.
Barbecued Spicy Nando's chicken thighs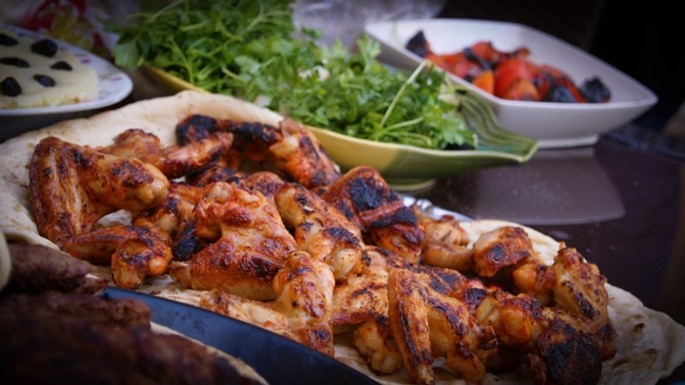 If you have spent the summer barbecuing with friends, then why not spice things up and try these Nando's BBQ chicken thighs.
These make a fun change to the usual burgers and sausages and who doesn't love some spicy (or lemon and herby) chicken.
Ingredients:
125g bottle of Nando's PERi-PERi sauce in whatever spice level you fancy.
12 boneless chicken thighs, skin on
Method:
Marinate the chicken in your PERi-PERi sauce of choice for at least an hour in the fridge.
Pre-heat your gas BBQ to 200°c and then once preheated lower the temperature to 175°c.
Cook the thighs on one side for about 7 minutes on each side.
Turn off the gas, close the lid and allow your thighs to cook for a further 20 minutes.
Check the chicken has reached internal temperature of 75°c and then serve.
Costa Coconut and Lime Cake
If you are planning on spending your summer, relaxing, and recharging then this coconut and lime cake recipe is exactly what you need.
Refreshing and summery while still being a yummy - it's the perfect summer treat.
What could be better than chilling out in your garden with a good book and a slice of loaf cake.  
Ingredients:
200g Butter (unsalted)
200g Caster sugar
2 Limes
4 Eggs large
2 tbsp Milk
50g Desiccated coconut Plus 1-2 tsp for sprinkling on top
200g Self raising flour
4 tbsp Caster sugar for the drizzle
Method:
Preheat the oven to 150°c fan/ 170°c/ Gas mark 4
Add the butter, caster sugar and the lime zest to a large bowl and mix with a spoon or electric mixer until fluffy.
Add the milk and eggs and whisk until smooth.
Add in the desiccated coconut and self-raising flour gently using a hand whisk.
Put the mixture in a loaf in and bake in the oven for an hour.
While the cake is in the oven mix together the juice of the limes and the caster sugar to make your drizzle.
When the cake comes out of the oven, then poke holes in it and pour over your drizzle and wait for it to cool.
For a final touch sprinkle over some desiccated coconut.
Picky bits in the park with M&S

If you want to get outside and enjoy the rest of the summer sun, then some M&S 3 for £8 picky bits are exactly what you need.
Here are our recommendations for the perfect picnic:
M&S Cheddar & Onion Quiche
M&S Chorizo & Chilli Cheddar Rollitos
M&S Pitted Spanish Manzanilla & Cuquillo Olives